Green · Intelligence · Future
With the launch of "Made in China 2025" strategy, the manufacture industry in China steps into a brand newdevelopment period. Under this national strategy, the foundry industry is transforming and upgrading. Green manufacturing and intelligence development will be the only way. In recent years, with the rapid development of light alloy casting industry, representing by aluminum and magnesium industry, develops very fast and drives the rapid development of non-ferrous metal casting field. In new development period, the non-ferrous foundry industry should apply the scientific outlook on development, strengthen independent research and development, drive the progress of the industry's common technologies, improve its own brand and service and enhance international competitiveness.
Non-ferrous casting, sets sail again
Founded in 2016, the first CHINA NONFERROUS has won wide attention from the well-known enterprises in the non-ferrous alloys and special casting industry such as Dicastal, Henkel, Pyrotek, FOSECO, HDTD. The "Scientific
and Technological Achievements Trade Fair", which is the docking platform of industry, university and research, has attracted 17 universities and research institutes to participate. It exhibited and published new technological
彩经网achievements of non-ferrous industry and received warm response.

CHINA NONFERROUS 2017 will be held from July 19 to 21 in Shanghai New International Expo Centre (SNIEC). Positioning itself as the leading service platform for the market, the organizer dedicates on integrating more
international resources to the show, aiming at upgrading the platform to a higher level.
Together with CHINA DIECASTING 2017
In 2017, "China Nonferrous Alloys & Special Casting Exhibition" and "China International Diecasting Congress & Exhibition" will be held concurrently again, serving the whole special casting industry in and out of China. CHINA
DIECASTING is appraised highly by the industry for its profession, internationalization, participation of leading companies and high quality trade visitors. It drives and witnesses the rapid development of diecasting industry.
Perfect Choice for Leading Companies
Network with International Markets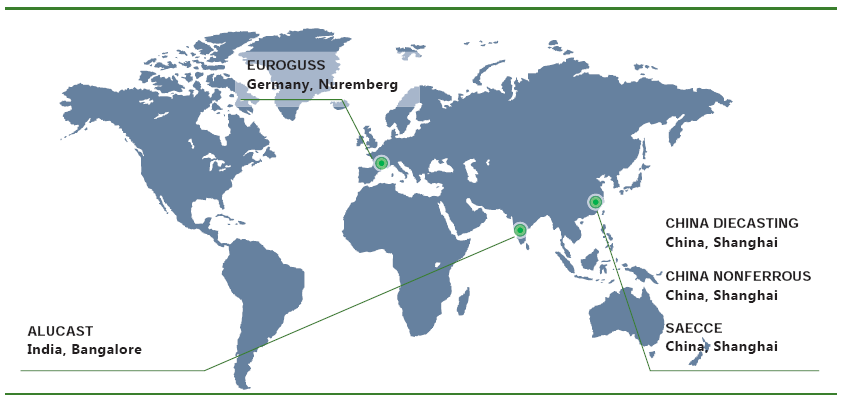 High-end congress platform
2017 China Nonferrous Alloys & Special Casting Development Forum
The forum has various and rich content including "The 4th International Nonferrous Alloys & Special Casting Technology Seminar", "The 12th China International Diecasting Congress", and etc. The forum willprovide a more comprehensive and international view by inviting domestic and abroad professionals and elites to discuss hot topics and difficulties relating to the industry's development trend, innovation of technologies, and enterprise management.
43 professionals and scholars delivered reports on advanced technologies.
210 representatives from 10 countries attended the forum.
Integration of industry, universities and research
The 4th China Foundry Scientific and Technological Achievements Trade Fair
It aims to strengthen the cooperation among universities, enterprises, and docking of scientific achievements, making full use of the resource advantages of universities and scientific institutes to promote enterprises' independent innovative capacity and resolve practical problems for enterprises.
17 domestic and internationaluniversities and scientific institutes attended the fair.
47 scientific researches were published among which 23 were awarded the patent.
More than 300 people witnessed the publication of the researches.

Highly efficient onsite program
Best DieCasting Display Area
Well-known domestic and internationalcasting anufacturerswill
show their high-level products.
Match-Making Events
Link suppliers and buyers
彩经网Fact to face communication
Review of CHINA DIECASTING 2016
Hosted:
Chinese Mechanical Engineering Society
ProductivityPromotionCenter of Foundry
彩经网Industry of China

Organized:
Foundry Institution of Chinese Mechanical
Engineering Society
Co-Organized:
NürnbergMesse China Co., Ltd.
Japan Keikinzoku Tsushin Al Co., Ltd.

Contact Information
Foundry Institution of Chinese Mechanical
Engineering Society
Ms. Lydia Huang
Tel: +86 21-5515 5026
Email: lydia.huang@atecvos.com

NürnbergMesse China Co., Ltd.
Ms. Kelly Wang
Tel: +86 21-60361220
Email: Kelly.wang@nm-china.com.cn